2020 Fact Sheet
• This year more than 200,000 women and men will be diagnosed with breast cancer and more than 40,000 will lose their life to the disease.
• A woman will be diagnosed with breast cancer every three minutes.

• Every 13 minutes, the disease will claim another life.
• In the United States today, there are more than 2.8 million breast cancer survivors.
The Breast Cancer 3-Day is a 60-mile walk for women and men who want to make a difference in the fight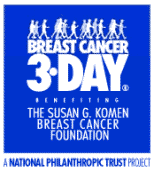 against breast cancer. Participants travel an average of 20 miles per day and are provided with three meals a day, snacks, liquids, mobile showers, port-a-potties, sleeping tents, safety guidelines and medical support. Each participant raises a minimum of $2,300 and the net proceeds fund critical breast cancer research and outreach programs.
The Susan G. Komen Breast Cancer Foundation was established in 1982 by Nancy Brinker to honor the memory of her sister, Susan G. Komen, who died from breast cancer at the age of 36. Today the Komen Foundation is an international organization with a network of more than 75,000 active volunteers working through local Affiliates and events like the 3-Day and the Komen Race for the Cure®, to eradicate breast cancer as a life-threatening disease. A global leader in the fight against breast cancer, the Komen Foundation fulfills its mission through support of innovative breast cancer research grants, meritorious awards and educational, scientific and community outreach programs around the world. Together with its Affiliate Network, corporate partners and generous donors, the Komen Foundation has raised over $740 million for the fight against breast cancer.
<![if !vml]>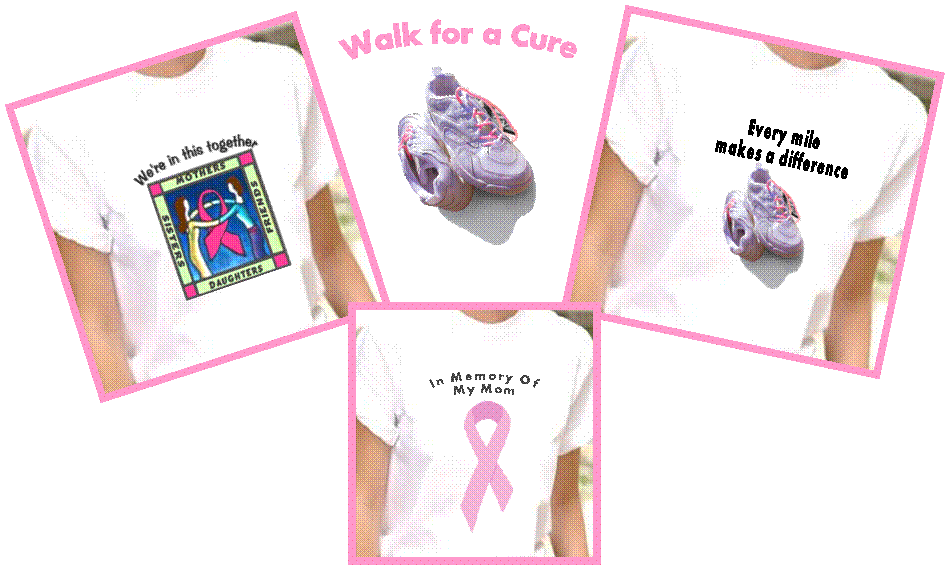 <![endif]>
***The T-shirts come in light pink or white depending on the design unless you specify a preference.***
Also available but not shown is;

"One cause. Three days. Sixty miles. Hundreds of conversations. Thousands of people. Changing millions of lives."
Please specify any special request and I will try my best to accommodate it.

The 'In Memory Of "______" t-shirt can be personalized however you choose.

Team names are an option at no additional cost in most cases.

Please email me after you complete your order with any additional information or special requests and I will email a response to confirm it. Feel free to be creative with your design.

Be Well ~~ ~~ God's Peace,

Patti